Cash for Vehicles Damaged by Storms in Pinellas County
Was Your Vehicle Damaged by Weather?
The recent tornado in Tennessee was a reminder how quickly our lives can change. In Florida, we know what it's like to lose our homes, vehicles and boats to storm damage. Many people who lose their vehicles or have had severe damage to their automobiles unfortunately do not have the adequate insurance coverage to replace or repair their vehicles.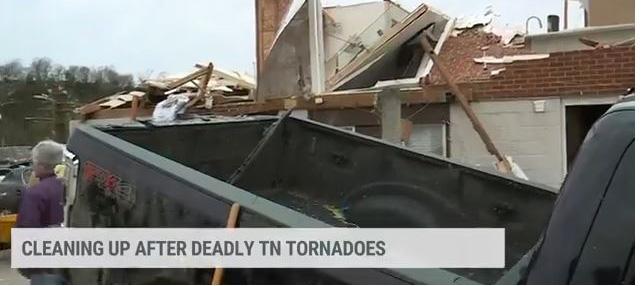 How to Junk Storm Damaged Cars, Trucks, SUVs in Pinellas County FL
At Cash for Junk Cars Clearwater, we have provided cash on the spot for vehicles that have suffered damage from rain water, hail, tree damage and other types of storm damage. Frequently the damage was not covered by their auto insurance, or the coverage was inadequate. In fact, customers who have sold their wrecked vehicles to Cash for Junk Cars Clearwater FL, admitted that we offered more cash for cars than the insurance company did.  It's important to know that when you file a claim with your car insurance company after storm damage or an accident, you can request that they return the wrecked vehicle to you. Click below to read a good article on insurance claims and salvaging your vehicles .
Clearwater Salvage – Scrap Your Storm Damaged Cars for Cash
Cash for junk cars Clearwater has paid cash for cars that have been damaged from water, storm debris and other types of weather related damage.  And we also pay cash for trucks, SUVs, campers and RV's with storm damage.  Boats have also taken a beating from our severe summer storms and tropical weather. If you need cash for your old or damaged boat, give us a call to see if we can make you a cash offer.
Easy Process to Junk Your Wrecked or Damaged Automobiles in Clearwater Dunedin, Largo Countryside
We know that after a storm or after a car accident you need honest, reliable help. Cash for Junk Cars Clearwater FL offers an easy process to junk your cars as well as friendly, helpful staff and drivers.  No online forms, no collecting your info online– Simply TEXT OR CALL FOR AN OFFER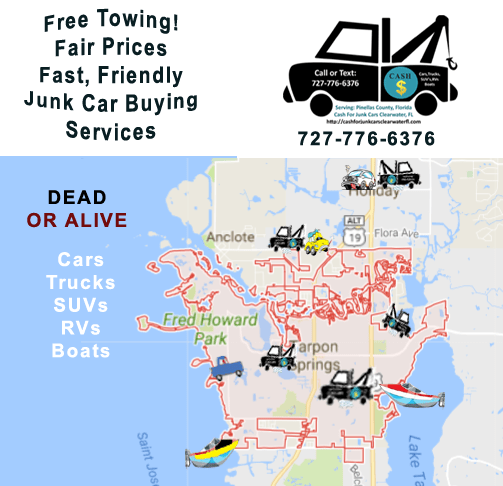 FREE TOWING
The last thing you need is to pay for towing out of the money you're given for your junk car! At Cash for Junk Cars Clearwater FL, we NEVER charge for towing once you accept our cash offer.
What Can You Expect When You Junk Your Damaged Vehicle?
Fair price for your storm or accident damaged vehicles – Our customers will tell you that our offer was the most fair of all other Clearwater Junk Car Buyers
Cash on the spot – No waiting for checks in the mail (Yes, that happens)
No towing fees- NEVER
Reliable, Fast Vehicle Removal Service – We'll be there ASAP and won't keep you waiting
Pinellas County Junk Car Buyers –
If your car was damaged by a storm in Clearwater, but your boat and camper was damaged somewhere else in Pinellas County, we can help. We're Tampa Bay's top-rated Junk Car Buyers!
If Your Car Has Been Damaged by a Weather Related Incident
Stay safe. Watch for broken glass or downed power lines. Call for help if need be.
Don't drive your damaged vehicle – If your car has water damage or other damage it is probably not be safe to drive it.
Document the damage if you can – Take a photo of damage before cleaning up debris
Call your insurer
If you do not have comprehensive insurance  and you need quick cash for your auto, RV or camper, call Cash for Junk Cars Clearwater FL.
Our thoughts go out to those in the South who are recovering or who have lost loved ones in the storms. Remember, your cars and things can be replaced, and we're here to help when storms come your way Clearwater!